Acercamiento a la producción más limpia como estrategia de gestión ambiental
Juan José Cabello-Eras

Universidad de la Costa
Palabras clave:
Contaminación, gestión ambiental, control de la contaminación, prevención de la contaminación, producción más limpia.
Resumen
En el trabajo se realiza una reflexión acerca de la Producción más Limpia como estrategia de gestión ambiental y las ventajas que de ella se obtiene con respecto al enfoque tradicional de tratamiento al final del proceso. Estas ventajas están relacionadas principalmente con su enfoque preventivo orientado a evitar la contaminación en lugar de tratarla para evitar su efecto. Se refieren algunos resultados de la aplicación de esta estrategia en Cuba.
Descargas
La descarga de datos todavía no está disponible.
Citas
M. Rigola, Producción más limpia. Barcelona, España: Editorial Rubes, 1998. p.139
UNIDO/ UNEP, How to Establish and Operate a Cleaner Production Centre. SCP Publications, 2004. URL: http://www.unep.fr/shared/publications/pdf/WEBx0072xPA-CPcentre.pdf
S.H. B onilla, C .M. A lmeida, B .B.Giannetti, D . H uisingh. 2010. The roles of cleaner production in the sustainable development of modern societies: an introduction to this special issue. Journal of Cleaner Production. 18.1-5.
J. J. Cabello, A Sagastume, D. Garcia, J. Cogollos, L Hens, C Vandecasteele. 2015. Bridging universities and industry through cleaner production activities. Experiences from the Cleaner Production Center at the University of Cienfuegos, Cuba. Journal of Cleaner Production 108, PattA, 1 , 873-882
UNEP. Resource Efficient and Cleaner Production. Available from: http://www.unep.fr/scp/cp/ last accessed in May 2016 .
A. Cama Pinto, E. De la Hoz Franco, and D. Cama Pinto, "Las redes de sensores inalámbricos y el internet de las cosas," INGE CUC, vol. 8, no. 1, pp. 163–172, 2012.
B. Su, A. Heshmati, Y. Ceng, Y. 2013. A review of the circular economy in China: moving from rhetoric to implementation. Journal of Cleaner Production. 42, 215-227.
J. J. Cabello Eras et al., "Comparative study of the urban quality of life in Cuban first-level cities from an objective dimension," Environment, Development and Sustainability, vol. 16, no. 1, pp. 195–215, Feb. 2014. doi:10.1007/s10668-013-9470-0
Oficina Nacional de Estadística, "Energía. Indicadores seleccionados," 2010. [Online]. Available: http://www.one.cu/publicaciones/04industria/indselenergia/IndSelEnergia_1006.pdf.
A. P. Cortés Vásquez, "Sistema de Aprendizaje de Patrones de Navegación Web Mediante Gramáticas Probabilísticas de Hipertexto," INGE CUC, vol. 11, no. 1, pp. 72–78, 2015. Doi: 10.17981/ingecuc.11.1.2015.07
R. C. Calzado Brossard, "La estrategia de la Producción Más Limpia en plantas de hormigón asfaltico," Cuba, 2007.
A. Gómez Cabrera and A. R. Orozco Ovalle, "Simulación digital como herramienta para la gestión del conocimiento en la construcción de edificaciones en concreto," INGE CUC, vol. 10, no. 1, pp. 75–82, 2014.
ONUDI. Integración regional para proyectos de PML. https://www.unido.org/fileadmin/user_media/Services/Environmental_Management/CP_ToolKit_spanish/PRVolume_10/10-Textbook.pdf
C. E. Gómez Montoya, C. A. Candela Uribe, and L. E. Sepúlveda Rodríguez, "Seguridad en la configuración del servidor web Apache," INGE CUC, vol. 9, no. 2, pp. 31–38, 2013.
J. J. Cabello Eras, J. B. Cogollos Martinez, D. Garcia Lorenzo, A. Sagastume Gutierrez, A. Sendon Medina,M. Santos Pena, L. Hens, and C. Vandecasteele, "A Center for Cleaner Production to Contribute to The Socio Environmental Development Of The Province Of Cienfuegos," in Advances in Cleaner Production, São Paulo, 2011, pp. 15–41.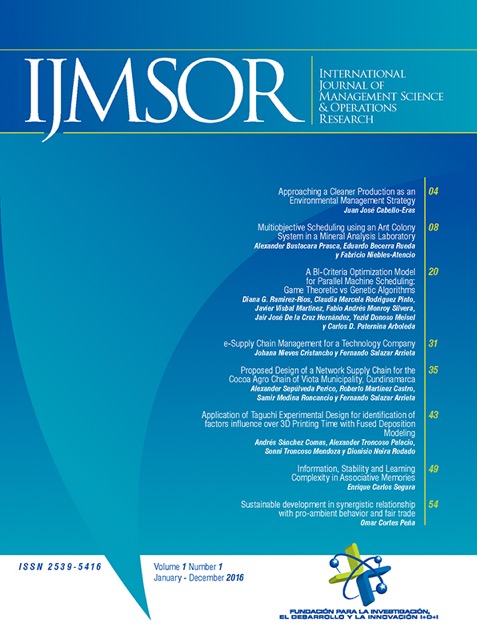 Cómo citar
Cabello-Eras, J. (2016). Acercamiento a la producción más limpia como estrategia de gestión ambiental. IJMSOR: International Journal of Management Science & Operation Research, 1(1), 4-7. https://doi.org/10.17981/ijmsor.01.01.01
Los artículos publicados son de exclusiva responsabilidad de sus autores y no reflejan necesariamente las opiniones del comité editorial.
 IJMSOR respeta los derechos morales de sus autores, los cuales ceden al comité editorial los derechos patrimoniales del material publicado.  A su vez, los autores informan que el presente trabajo es inédito y no ha sido publicado anteriormente. 
This work is licensed under a Creative Commons Attribution-NonCommercial-NoDerivs 3.0 Unported License.